If you are like me you probably have a house without a fireplace and thought it would be crazy expensive to install one. Well, I have some good news for you! You can install an electric fireplace in your house for under $500. And yes, the fireplace does actually produce heat and no it is not that hard to build. In this video, I will walk you through step by step how I build this fireplace.
Tools and Supplies Needed For DIY Electric Fireplace
Supplies
(14) 2″x4"x8′ any type of 2×4 will work, I just got the cheapest I could find at my local hardwood store
(4) 1″x6″x6′ common board
(20) .375'x6'x8″ shiplap
Wood Screws. I got 2 boxes of 3 1/2 inch screws
Electric Fireplace. Here is a link to the one I got off Amazon. I did a full review of this fireplace on YouTube if you want to learn more about the fireplace features you can check out the video here.
*Optional (3) 2.5″x.75″ MDF board. This used if you want to add baseboard and molding to the top and bottom of the wall.
Tools That I Used
How To Build Electric Fireplace Wall
The first step is to measure out where you want the fireplace to go and locate the studs in your wall.
If you have carpet you are going to want to cut that.
Attach 1″x6″x'6 common boards to the studs in your wall. Cut the boards to your desired length before attaching.
Build the frame. I am not a professional contractor, but this is how I built my frame and I have to say it is super sturdy. I started by attaching two, 8 foot 2x4s with four 7inch 2×4 pieces. For mine I did 7 inches because I wanted the wall to come out 10 inches total. 7 inch plus 1 1/2 inches from each 2×4. Repeat this process twice.
Now that you have the two side frames, attach them to the backing boards you previously attached to the wall. I used 3 ¼ wood screws to attach them to the boards. Make sure you have a level handy so you can double-check that everything is aligned the right way.
Build the front frame. Start measuring the space between the side frames that just attached to the wall. Cut a piece of wood to that length. Then attach two 8 foot 2x4s to that piece of wood so you have a "U" shape. 
Before you build the rest of the front frame I would recommend already having your electric fireplace. This will help you make sure that the fireplace will fit perfectly in the frame.  I got this 36-inch wide fireplace from Amazon. Even though it is 36 inches wide that includes the cover plate. With most electric fireplaces the width you build for the frame will be shorter than the full width of with cover plate.
After you have the frame built out for the fireplace you will need to run 2x4s all the way to the top of your frame for the tv mount. Most mounts have holes that are 16 inches apart. The mount I got has holes 16 inches apart. We got this mount because it has full motion and can swivel up and down.
.
Before you attach the front frame be sure to add the studs where you will be installing the fireplace. I made the mistake of not doing this before I attached the front frame and it made it a little tricky. But here is a picture of what I mean. I also have a full YouTube video on installation tips for the fireplace and an overall review of it.
Attach the front frame to the rest of the wall. This part can be a little tricky. I recommend having at least one other person help you. When you have the frame in place be sure to make sure everything is level. If everything looks straight and level attach the front frame to the side frames with wood screws.
Before I started adding the shiplap I did have a buddy who is an electrician help me install an outlet to one of the studs so I had power for my TV.
Now it is time to install the fireplace. This is super easy if you followed the instructions in step 9. It is literally only two screws to install the fireplace. If you bought a different fireplace then it might be different for you, but this is how I installed the R.W flame fireplace.
Start adding shiplap. If you would like, you could start by adding molding at the base ( I used a 3inch MDF board) but this is optional, I have seen other people have the bottom be shiplap. It just comes down to whatever you think will look best. For the cuts around the fireplace, you will need to use a jigsaw. For me, I didn't worry too much about the corners because I knew I was going to install a corner molding that would cover up those ugly cuts. To attach the shiplap to the frame I used a brad nailer and I would highly recommend it. It makes that job so much easier.
Once the frame is covered in shiplap you will probably notice a gap at the ceiling. This is where you add your top molding. There are lots of options for molding. I went with the easy option of using the same MDF board that I used for the baseboard. (sorry for the crappy photo)
Clean up those corners with some corner molding. Here is the molding that I used. I also used my brad nailer for this.
Use spackle to fill in all the nail holes. Then use caulk to clean up all the joints. Once everything dies, get the spackle holes a lite sand.
The next step is to paint. I added a coat of white paint to clean everything up. I used a brush and roller, but I wish I had a paint gun. It would have made it a lot easier.
Mount your TV. The mount I used made it easy with a little paper stencil that showed me where to drill my holes. You should know where your studs are, but if you don't, use a stud finder. Here is a picture of the spacing for mine. ( I know it is a crappy picture, but hopefully, it is helpful lol)
The last thing is to add the mantel. I have a full video on YouTube on how I built my own mantel for under $50. Or you can buy your own mantel pre-made mantel. 
And that is everything. I was intimidated to start building this electric fireplace wall and went back and forth on if I could do it. Now that it is done I am so happy I ended up building it. I hope this blog will help you if you are on the fence like I was.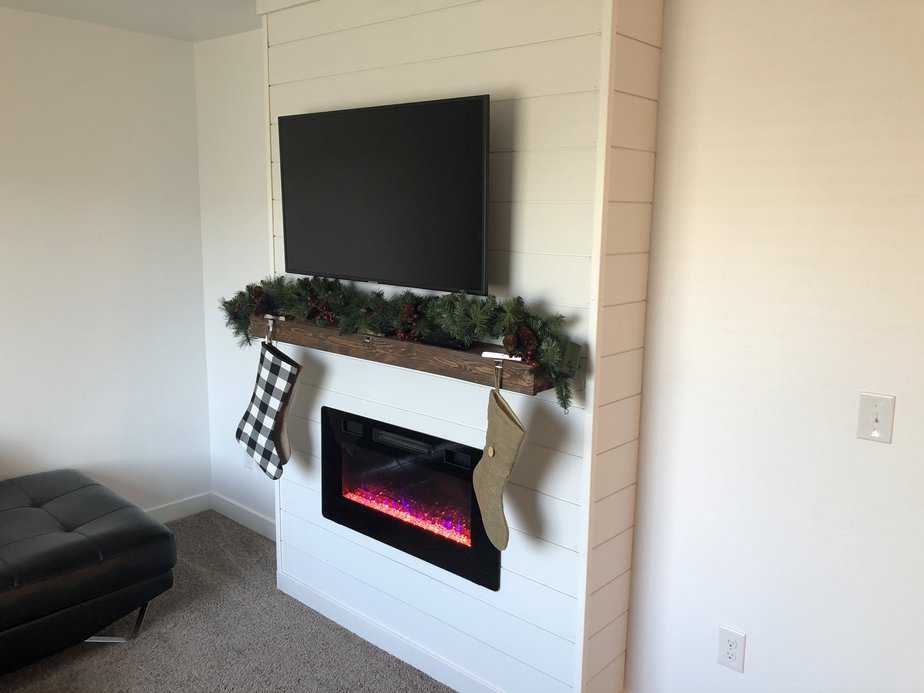 If are wanting to build an electric fireplace, but don't to go all the way up to the ceiling you can check out this post.