When the holiday season rolls around, selecting the ideal artificial Christmas tree can feel like an overwhelming task. The market is flooded with options, each promising to be the perfect centerpiece for your holiday celebrations.
Many people opt for artificial trees for various reasons—whether it's the convenience of not having to water and maintain a real tree, avoiding the mess of fallen pine needles, or the benefit of using the same beautiful tree year after year. Artificial trees can also be a lifesaver for those with allergies to real pines.
I have taken the guesswork out of this process by purchasing and thoroughly reviewing five top-rated artificial Christmas trees available on Amazon. Our comprehensive guide dives into their unique features, similarities, and even a few downsides. We'll give you the details on everything from branch quality to light options, helping you weigh the pros and cons of each model.
This way, you'll be armed with all the information you need to choose the tree that best fits your lifestyle and aesthetic preferences. So, let's get started on your journey to a more merry and bright holiday season!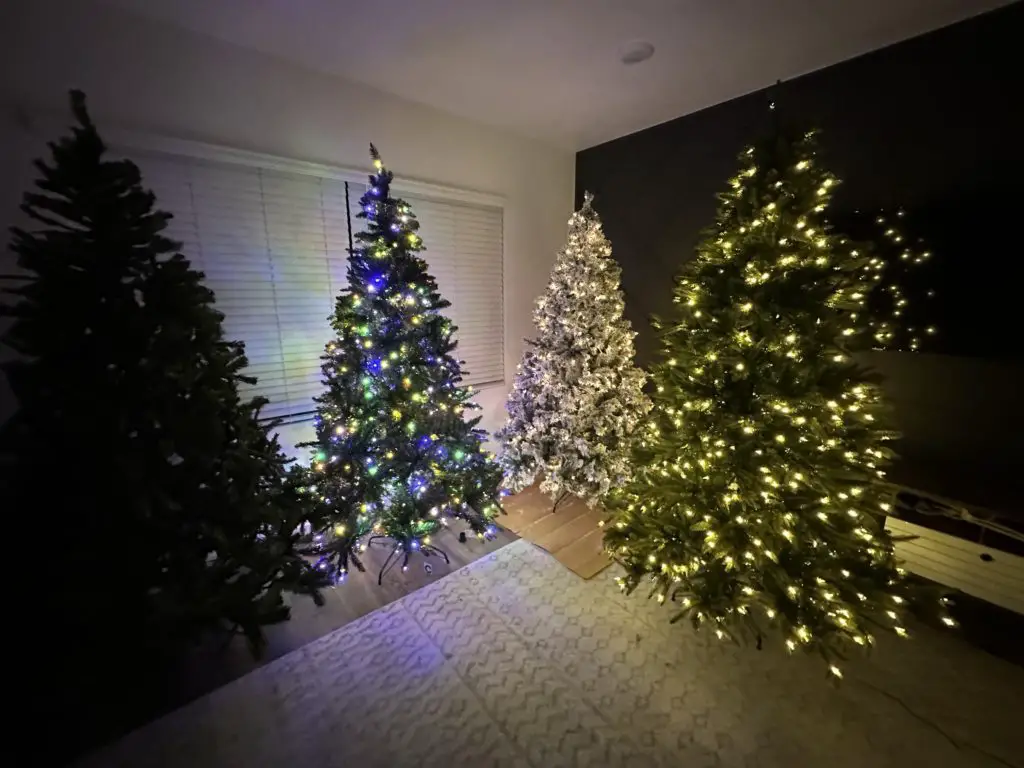 Common Features Across All Trees
Before we dive into the individual trees' specific attributes, it's important to note some universal characteristics they share. Each of the five trees I reviewed comes with a similar base design that ensures stability.
They're also designed for user-friendly assembly, broken down into three primary components—Sections A, B, and C—that simply slide into one another. While some trees might require a little more "fluffing" of the branches to look their best, the overall setup process is straightforward and similar for each tree.
Best Choice Tree—The Budget-Friendly Option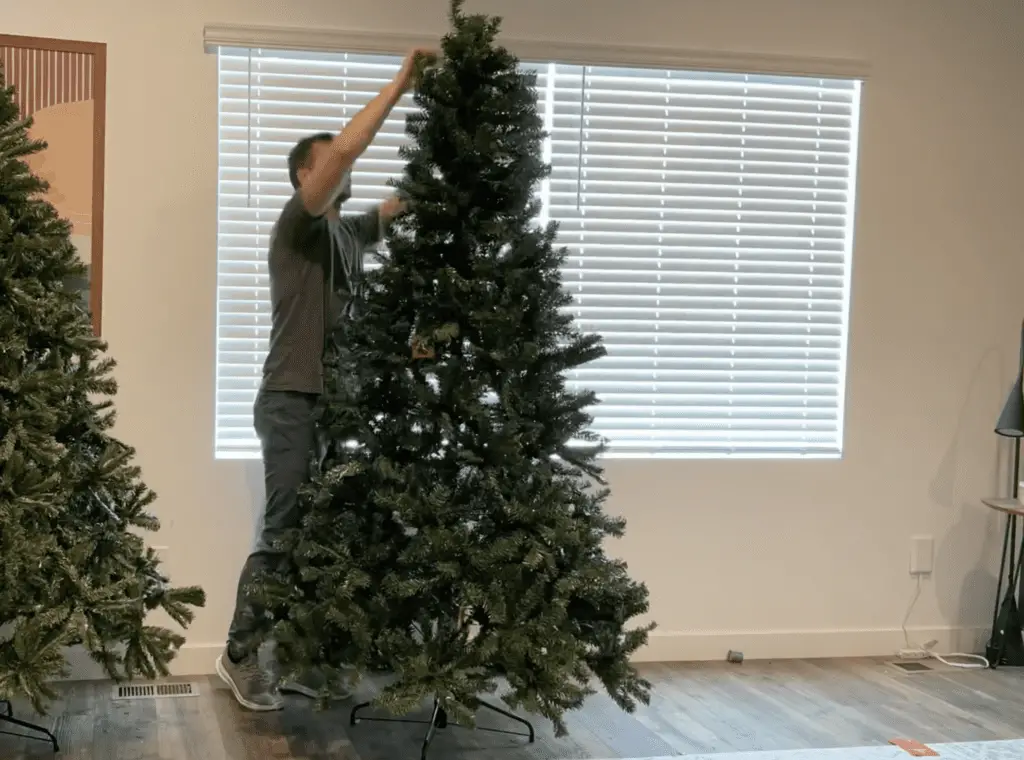 The Best Choice tree is a hit for those shopping on a budget but still seeking a festive atmosphere. It may not have the ultra-realistic look that some of the pricier options offer, but it certainly holds its own in terms of visual appeal.
This tree is also quite popular on Amazon, boasting an impressive number of reviews. One of its greatest advantages is the variety of sizes it comes in, offering something for everyone from those with modest living spaces to those with grand holiday visions.
Pros:
Most affordable
Highly popular on Amazon with over 13,000 reviews
Available in various sizes ranging from 4.5 to 9 ft
Cons:
Not the most realistic-looking
The Best Choice tree wins when it comes to affordability and popularity. While it might not give you the most authentic Christmas feel, it still looks decent and provides excellent value for the price.
Check The Lastest Price On Amazon For The Best Choice Tree
National Tree Company—The Premium Pick
For those who don't mind investing a bit more for a truly authentic Christmas experience, the National Tree Company's offering is hard to beat. Known for its hyper-realistic appearance, this tree is often chosen by those seeking something that closely mimics an actual evergreen tree.
If you're looking for a grander tree that surpasses the typical 9-foot mark, this model offers sizes that can fill even the most spacious of living rooms.
Pros:
Highly realistic appearance
Available in a wide size range from 4T to 12T
Cons:
Most expensive among the five
No built-in lights
Check The Latest Price On Amazon For National Tree Company Tree
Hykolity Tree—The Technicolor Dream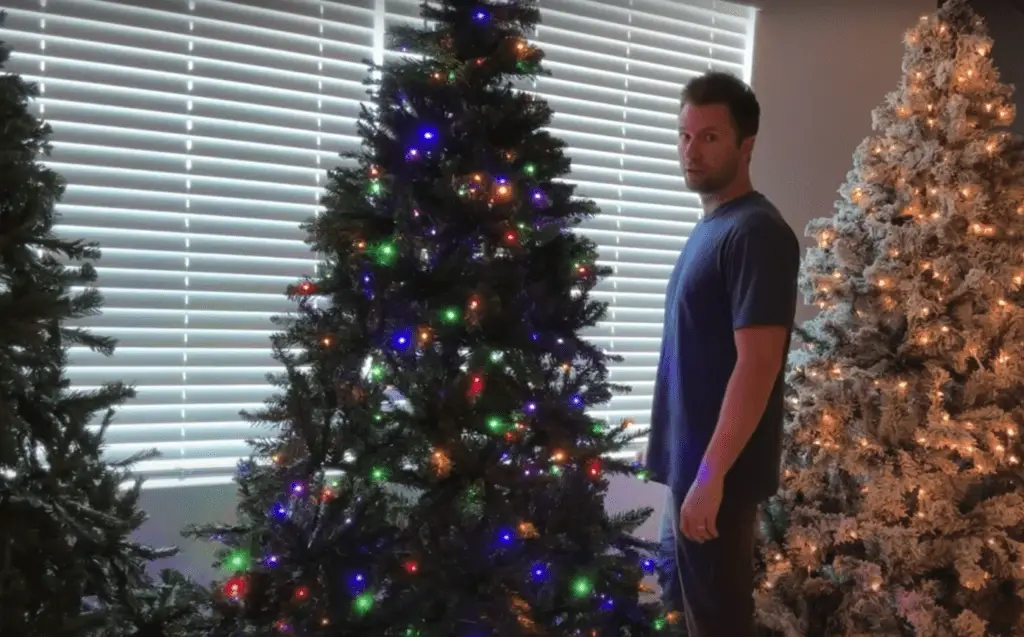 The Hykolity Tree is an explosion of color and festive light that's particularly popular among children. The tree comes with a unique foot-tap button that lets you conveniently cycle through a variety of lighting options. This tree is particularly suited for families looking to add a splash of color to their holiday celebrations.
Pros:
Comes pre-lit with ten different light modes
Features a convenient foot-tap button for changing colors
Cons:
Light modes may not be everyone's cup of tea
 Check The Latest Price On Amazon For The Hykolity Tree
Yaheetech Tree—The Snowy Elegance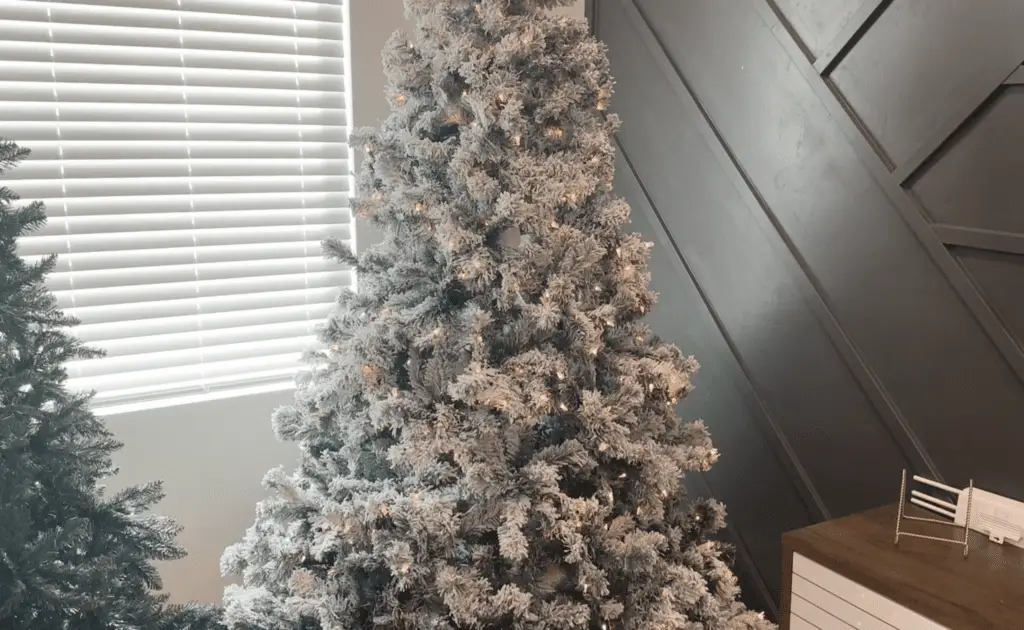 If you dream of a white Christmas but live in a climate that doesn't cooperate, the Yaheetech Tree is a noteworthy option. This tree comes with a snow effect that gives your living space an instant winter wonderland feel. However, be prepared for a bit of cleanup as the snow particles can get a little messy. As for lights, they're built in, but without the foot-tap feature seen in some other models.
Pros:
Comes with a snow effect and three different color options
Easiest to fluff
Cons:
Snow particles can create a mess
No foot-tap feature for lights
Check The Latest Price On Amazon For Yaheetech Tree
Evergreen Classic—The Realism King and Best Overall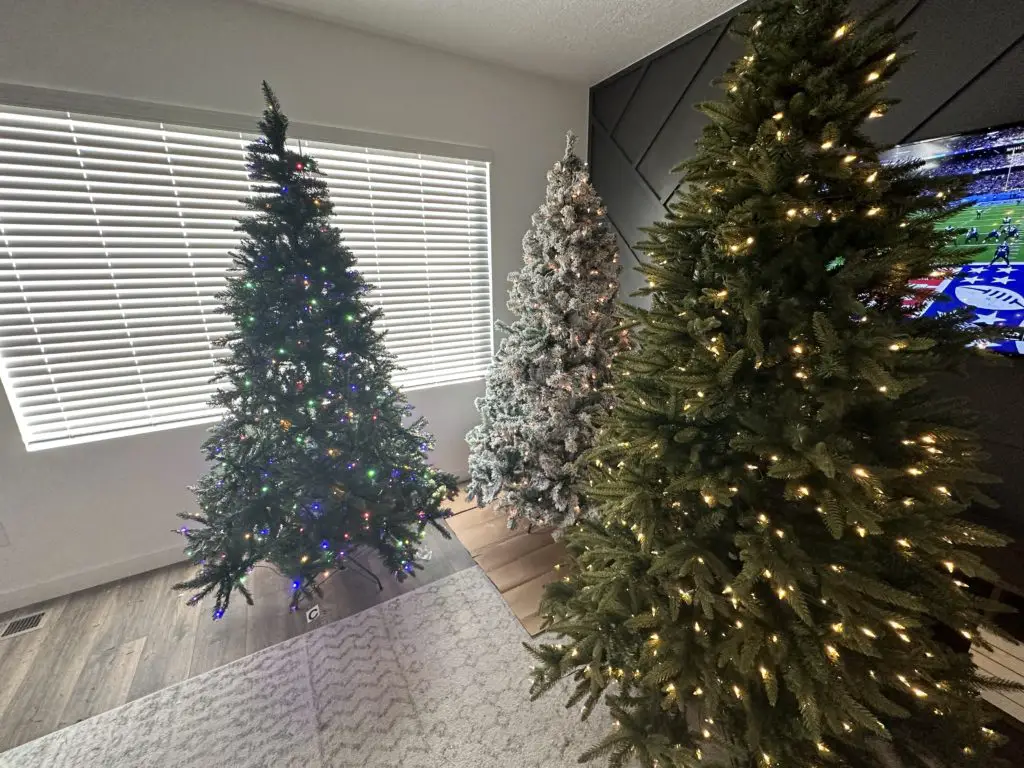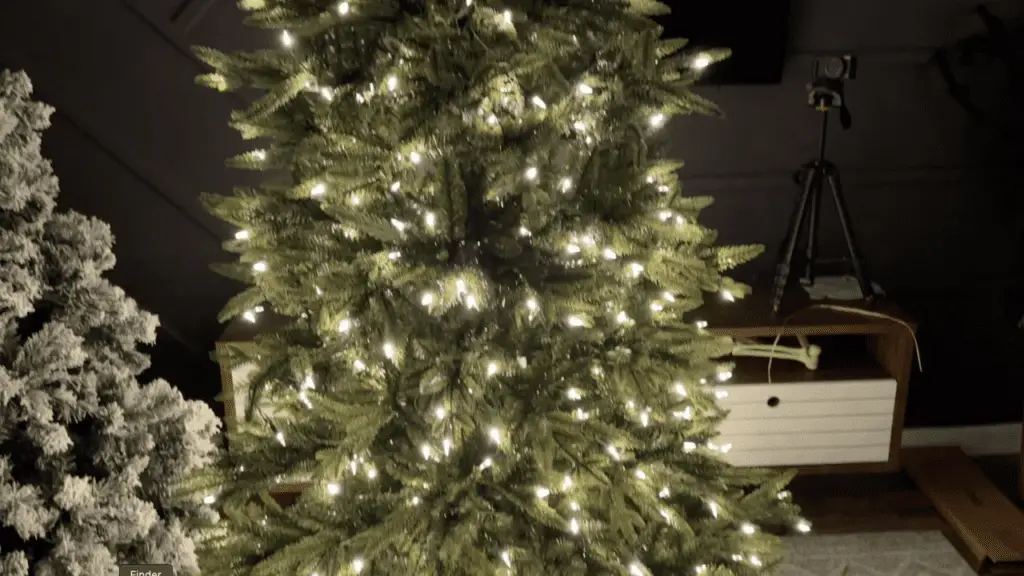 If it's a highly authentic-looking tree you're after, then the Evergreen Classic is your best bet. The tree boasts pine-like branches that give it a very natural appearance. It's also one of the most user-friendly options, thanks to its foot-tap button for easy lighting changes.
When it comes to cord length, this tree offers the most flexibility among all the trees reviewed, with the longest cord to reach those far-off outlets.
Pros:
Highly realistic appearance
Comes pre-lit with a foot-tap button
Has the longest cord among the trees
Cons:
Limited light options
Check Out The Latest Price On Amazon For The Evergreen Classic
To sum it all up, each tree has its unique selling points that make it worth considering:
For the budget-conscious shopper, the Best Choice Tree is an excellent option. If you're looking to dazzle with varying colors and lighting options, the Hykolity Tree is the choice for you.
The Yaheetech Tree offers a snowy spectacle for those seeking an artificial white Christmas. If realism is a top priority, you can't go wrong with the Evergreen Classic. I personally think the Evergreen classic is the best tree out of the 5 trees and will look perfect next your cozy fireplace.
BONUS: After-Use Storage
Packing up after the holiday season can be a bit of a chore, but most of these trees make it relatively easy by fitting back into their original packaging. The Yaheetech Tree, with its snowy branches, is the exception, posing a bit of a challenge for repacking.
For those looking for an alternative, specialized tree storage bags offer a handy solution, especially for the Yaheetech Tree, which might require a little extra care when storing.
By following this guide, you're sure to find the perfect tree to match your holiday spirit and make this season one to remember!